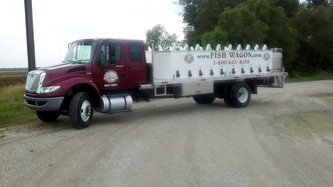 The Fish Wagon visits Crockett Farm & Fuel on Thursday, April 18 th from 7:30 am to 8:15 am. If you want to stock your pond for the spring, now is your chance.
Give the folks at the Fish Wagon a call to place your order. The Fish Wagon stocks channel catfish, black crappie, largemouth bass, fathead minnows, bluegill, redear sunfish, Koi, and grass carp. You can reach them at 1-800-643-8439.
From the time your fish are loaded at the hatchery until they're delivered to your pond, the utmost in care is taken to ensure that the fish arrive at their destination in excellent condition. Your fish are transported in insulated "live haul" fiberglass tanks in which both the oxygen content and water temperature are carefully monitored and maintained to specifically suit each species.
Everything the Fish Wagon sells is backed by a full replacement guarantee. If you experience the loss of any species purchased from them due to complications beyond your control, they will replace your fish the next time they're in your area at no cost to you.
Fish Wagon visits Crockett Farm & Fuel periodically throughout the year. Watch our website and Facebook page for more information.